Attendance Percentages Report¶
Attendance Percentages Report¶

By default, the report will look back one year from the current date (not including the current date), but you have the option to select a Start and End Date. The report will list every Member, their Age, Attendance String, Percent of Attendance, and a Count of the number of meetings they have attended during the specified date range.

This report was designed for organizations such as Youth Choir that have attendance requirements in order for the Members to participate in specific special events. However, it is very helpful for any organization that tracks attendance. When you sort by Percent, you can easily find those with the higher attendance percentage.

You can sort by Name, Age, Percent or Count. Attendance percentage is based on the person's enrollment date in the Organization. Therefore, you may find members with the same attendance percentage but with a different meeting count.
Important
Be sure that the end date you select is at least one day past the date of the last meeting, because the time used for those dates is 12:00:00 AM.
Run the Attendance Percentages Report¶
Step 1

Go to the Involvement for which you want the report.

Note

This report is run for each Involvement individually.

Step 2

From the blue Toolbar > cloud icon select Involvement Attendance > Attendance Percentages.

Step 3

Select a Start and End Date and click the blue Run button. Sort by Percent if you want to find those with the highest (or lowest) attendance percentages.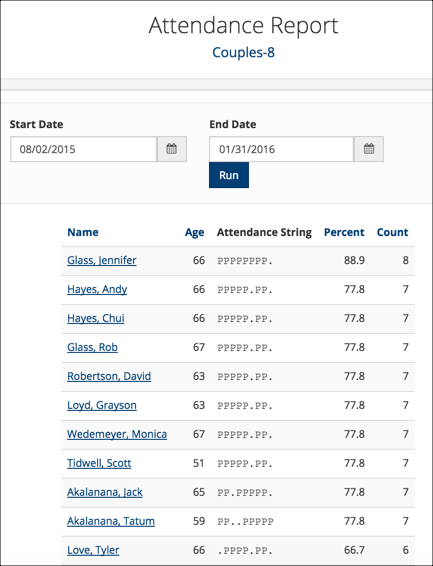 Attendance String
The most recent attendance is on the far right of the attendance string. Move to the left to go back in time.
Update terminology for Involvements