Org Join Date Compare¶
This Condition located on the Enrollment History category tab in Search Builder gives you the option to look at a person's join/enrollment date in an organization (for those currently enrolled) compared to another date, such as Church Membership Join Date, Decision Date, and others. You would select Comparison and the Code and then the Program and/or Division (and Organization, if you want) against which you want to compare it.
The options for the comparison dates are as follows:
Joined
Dropped
Decision
Baptism
Wedding
New Member Class
All of these have a date associated with them and that is the date used in the comparison.
Use Case 1
I want to know how many people enrolled in a Life Group class and later made a decision to join the church. This is what that would look like: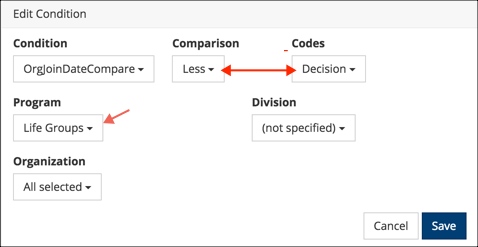 In the above example, when you use the Comparison Less, that means that the Join Date for the Organization pre-dates (is less than) the person's Decision Date.
Use Case 2
Instead of just finding at everyone that joined a Life Group and later made a decision to join the church, you can first find everyone that has joined the church this year by using the Condition Join Date and Greater Than Equal To the first of the calendar year or the church year. Then add this Condition.

Modify image link with secure protocol.