Bad Address Flag¶
This Condition located on the Address category tab in Search Builder allows you to find people who have the Bad Address flag checked on their people record. This information is indicated in red on the Business Card section of the people record and can be checked when you edit the address.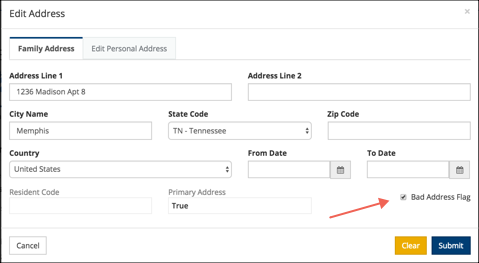 Note
If you are printing labels or exporting the Bulk (CVS) file, those with Bad Address on their record will not be included, even without this condition in the search itself. They will be included in other exports, so include this Condition if you do not want those included in any other type of export.
The Comparison is either True or False. If you want to exclude those with bad addresses from your search results, make the value False.
Use Case
If we have members that are not attending and have a Bad Address flag set we do not include them in our Resident Membership. So, when we determine this number, we exclude from our search anyone with a Bad Address flag set to True.
Modify image link with secure protocol.