Printing Avery 5160 Labels¶
Skip Used Labels¶
You can determine where on the page of 30 labels you begin printing. When you select Avery Address Labels from the toolbar (either the PDF or the Word version), you will see an option to Skip labels. Enter the number of labels that you want to skip in order to use a page of labels that has already been partially used.
Example
If you have used the first 5 labels on a page of 30, enter 5 in the box and the printing will begin with the 6th label. This will keep you from wasting labels when you do not have an entire page to print.
Here is the box where you enter the number of labels you want to skip: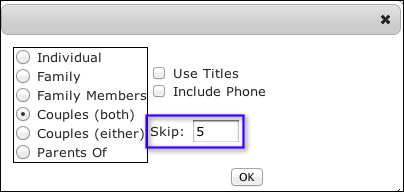 Five labels are skipped – the first row and part of the second row. The labels begin with the 6th label on the page.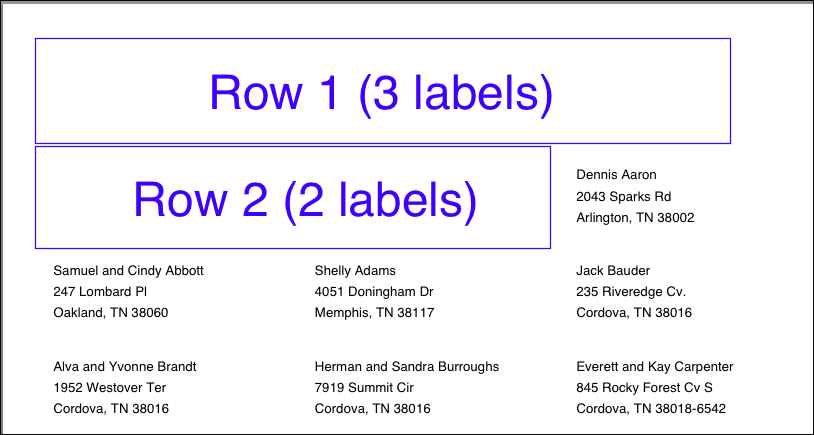 Alignment Problems for Avery Labels¶
If your Avery 5160 labels are not aligned correctly when printing from TouchPoint, it is probably one or both of the issues below:
If you are using Google Chrome

You need to disable the PDF Viewer.

Here is how to that:

In your browser's address bar, type chrome://plugins and scroll down until you see Chrome PDF Viewer.

Then click Disable.

Once that is disabled, the labels will display using Adobe Reader.

Disable Scaling in Adobe Reader

You will need to make sure that you have the Scaling set to None. This step also applies to those not using Chrome.

Once you open the PDF document and click Print, look in the Print dialog box for Page Scaling and select None from the dropdown menu. Instead of 'Scaling', it might say Scale 100%. If so, you should be able to leave it at that setting.
This should take care of the alignment problem.
Modify image link with secure protocol.