Dymo Printer Settings for Check-In¶
While TouchPoint Check-In does work with Dymo printers, we do not recommend you using these, due to the cost of labels. However, should you choose to use a Dymo, below are steps for setting it up.
Printer Settings on your PC¶
On your PC, go to Start > Devices and Printers. Then right-click on Dymo printer and select printing preferences.
On the Layout tab, Select Orientation > landscape
Click Advanced in the bottom right
From the Paper size drop down, choose the correct label size. This number should be listed on the outside of the Dymo Label box. The two most common labels are the:

White Address Label - 30572 or the 30252 (3 1/2" x 1 1/8")
White Shipping Label - 30573 or the 30256 (2 1/8" x 4")
Click OK on that advanced page, and then OK on the next page.
Printer Settings in Check-In¶
When you start up Check-In, select the Dymo printer in the Printer drop down.

Check the box Use Advanced Page Size
Click the button from printer and that will pull the label size from the driver (100 = 1").
For the 3.5" x 1 1/8 inch label, it pulls 350 x 109. Adjust it to 335 Width x 100 Height, which seems to fit everything on the label.
If you have another sized label, make a similar adjustment. Make adjustment of 5-10 increments down in size until you find the correct adjustment.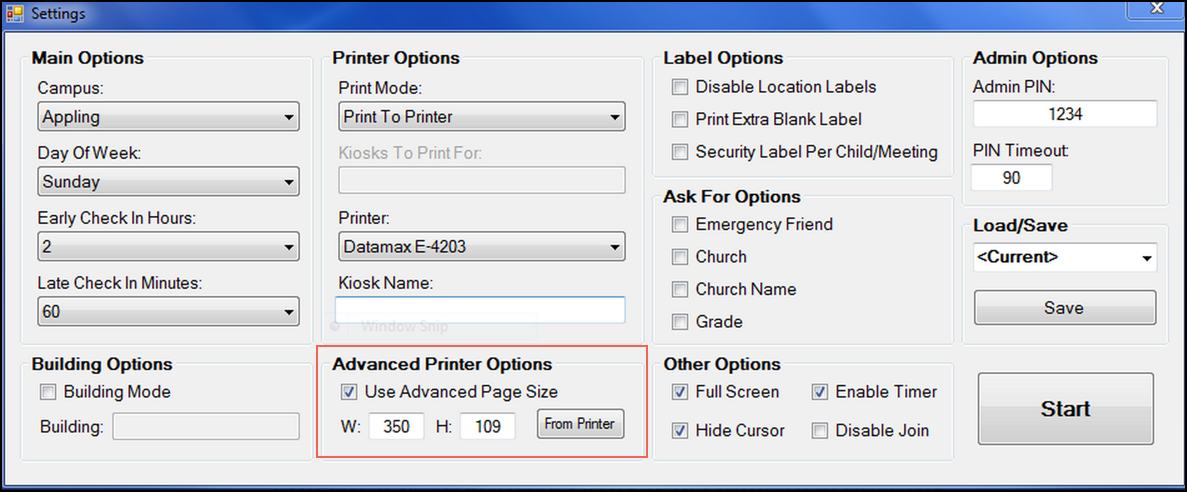 If you need to adjust the alignment after printing a label, close Check-In and restart it. The previous settings will be saved, so just adjust the advanced page size height and width down (again - in increments of 5-10) to see how it looks. Continue doing that until the label prints with everything properly aligned (so none of the information is running off the side or bottom of the label).
Modify image link with secure protocol.