Setup TouchPoint for Texting¶
After you establish your Twilio account, you can now finish the texting setup on your TouchPoint database. You should have already found the TwilioSID and TwilioToken for your account on the Twilio website.
Settings, Users, and Groups¶
Step 1

When you find those account settings on Twilio as referenced in the previous article "Establish an Account with Twilio", open TouchPoint and go to Administration > Setup > Settings.

Copy the AccountSID from Twilio and paste it into your TouchPoint database Settings as the value for TwilioSID.

Copy the AuthToken from Twilio, and paste it into the Settings as the value for TwilioToken.

Note

These 2 settings should already be in your database. However, if they are not, you can add them to the Settings and then enter the values.

Step 2

A special user role is required for a user to have permissions to send texts through your TouchPoint database.

Assign the SendSMS user role to each user that needs permission to text by going to each people record System > User Account tab.

Then click Edit, select SendSMS (under Basic Level 2) and click Save.

You do not create a new user account for the individual, just assign him the additional role.

Add the role to every user that should be able to send texts.

Note

This role should be in your database. However, if it is not there, you can add it by going to Administration > Setup > Lookup Codes and then select Miscellaneous > Roles.

Step 3

Each phone number that you purchased from Twilio must have a Group associated with in TouchPoint. Only one Group can be associated with each phone number. However, a user can be assigned to multiple Groups.

Go to Administration > Setup > Twilio and click the green + Add New Group button.

Step 4

Enter the Name and Description you want for the group and click the blue Submit button.

The name and description can be the same. Or, just give it a short name with a longer description. Ex. Name=NextGen Description=Students 6th - 12th Grade

Step 5

Now click the green + Add button beside Numbers and select the phone number for that group. Then click Submit.

Step 6

Each group needs users that will text using that group's number.

Click the green + Add button beside Users for the Group you just created. Then select each of the users you want to add to this Group.

Note

Only Users with SendSMS role will appear in the list, so be sure to assign the user roles before getting to this step.

Repeat Steps 3-6 for each phone number you've purchased.
Facts re Groups, Numbers, and Users¶
You only need 1 group if you only purchased one number.
Each group must have one phone number, and only one number associated with it.
Numbers will be displayed when you click +Add beside Numbers.
Each group must have users that can text using that number.
Users with the SendSMS role will display when you click +Add beside Users.
Users can be in multiple groups.
Even if a user has the SendSMS role, he cannot send texts unless he is in a group.
If you get an error when trying to add numbers you probably have the SID and Token incorrect in the Settings.
This image below has 2 groups - Students and Recreation - but no numbers or users associated with either of them yet.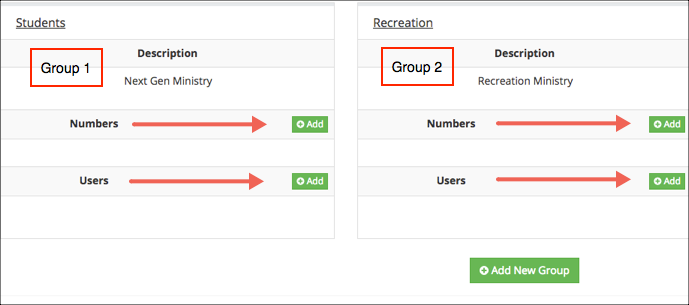 Phone Numbers
If you have purchased only one number and multiple ministries will use that number, that works fine. Only one number will display in the drop-down.
It you purchased multiple numbers, create a Group for each number, naming the Group based on the ministry that will use it.
This concludes the Admin setup for texting.
Now, since texting is an opt-in type of communication, you will need to encourage your congregation to sign up to receive texts. We have some suggestions for how to do that.