Roster Report¶
There are two roster reports:
These reports can be generated for an entire Division (or other sort criteria) from the Organization Search / Manage page or from an individual Organization using the Toolbar > Cloud options.
Because the Roster Extended report has the allergy / medical information for each child as well as the parents' names and cell phone numbers, it is a great report to put in the classroom.
A similar report, but without the Church or Medical columns is the Class List.
The Roster Extended report contains the following information about the organization member:
Name and ID #
Address
Home phone number
Parents' names
Parents' cell phone numbers
Church Member Status
Active in another church, Not active in another church
Family member is member here (this will display only if true)
Member Type within the Organization
Medical Information (as entered during Check-In, an online registration, or directly onto the person's record - Enrollment > Registration tab)
We included the contact information so that a teacher could address a postcard for a child who is absent or call the parents in an emergency. This report could be reprinted periodically and kept in a classroom.
Note
Under the Church column, Active in Another Church will display if the person has checked that during Check-In or when they registered online. Family member is member here will display if a member of the immediate family is actually a church member. It is based on what we have in TouchPoint, not from a check box.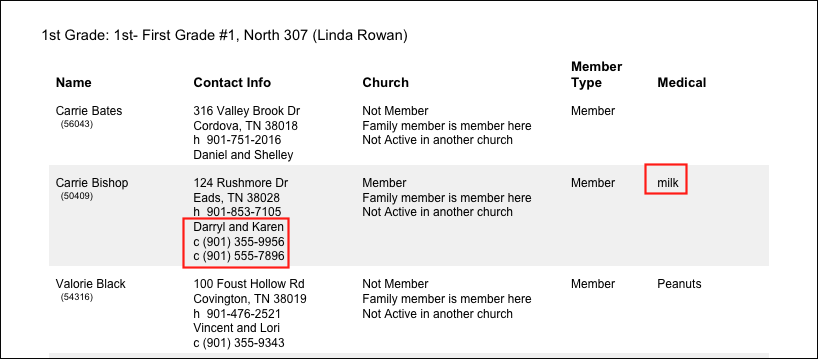 The Roster report contains the names, People ID #s, Member Type (within the organization) and the Medical Info. It does not contain the Contact or the Church info. You will find this option in the same places as the Roster Extended report.
Modify image link with secure protocol.